Semi Automatic Applicators
EM21 electronic marker makes labeling quicker and more convenient. It will dispense die cut roll labels without black mark or notch required on labels. It gives speedy peel-off and feed action.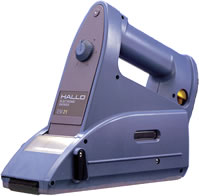 ■ Specifications
・Label feed rate: 130mm per second (or faster)
・The two choices of usage:
(1) Cordless marker with built-in battery
(2) Marker with AC power supply
・Dimension: 96(W) x 216(H) x 280(D)
・Weight: 670g
・Backing paper width: 23~52mm
*Thickness of the backing paper: 0.1mm or less
・Label roll outside diameter: 100mm or less
・Label length: 17mm or longer
・Battery pack dimensions: 37(W) x 67(H) x 136(D)mm
・Battery pack weight: 240g
Notice: Design and specs are subject to change at any time.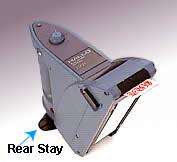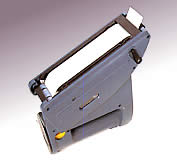 Mechanical Functions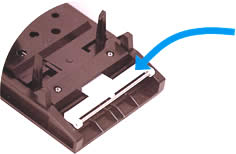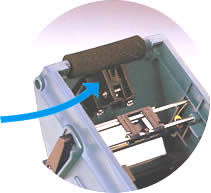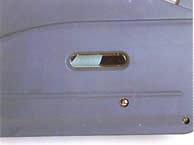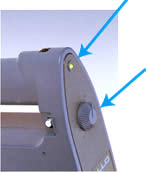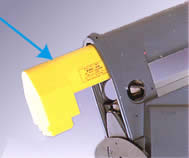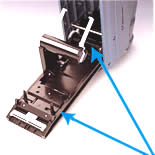 Label feed sensor
This sensor detects slack in the backing paper and instantly reels it in to ensure proper label peel-off


Label-remaining window
Label position sensor
This sensor arm monitors the leading edge of the label, and ensures that the subsequent label is fed forward properly. The dispensing length of the label is adjustable using the control knob, therefore, even labels without notch or black mark will be fed just right.
Pilot lamp
Shows battery power remaining. Green: OK to use. Orange: time to re-charge
Control knob
Controls the dispensing length of the label. Set it to fit with the length of the label you are using and object you are labeling. It offers a 60 mm range of adjustment.

Rechargeable battery pack

A single charge is good for about fifteen label rolls of 18 meters each. The AC Adapter CV-60 and the Grip for the adapter AG-21 are needed for use with AC power.
Insert between rollers
Label-holder width guideSet label to match label-holder width guide and insert the leading edge of the backing paper between the feed roller and the press roller and turn on the power switch. This automatically sets the label to the correct position.
If you need more advice on our EM21 Label Applicators please email us or call Steve on 01704 876241.