Bottle Matic (Bottle Labeller)
Bottle-Matic I & II
The Bottle-Matic has been developed to apply 1 or 2 labels (front & back) to a wide range of cylindrical containers including Bottles, Jars, Cans, Tubs and Tubes and is easily adapted to work with tapered, ridged & odd shaped containers.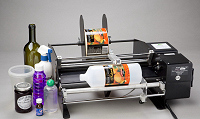 They are easy to set up and operate, making them an economical solution to relatively short runs and bespoke labelling.
 To ensure labels are applied correctly to small and lightweight containers all Bottle-Matics are fitted as standard with a pressure arm.
 Most self adhesive label substrates can be applied including polymers, but we recommend testing all labels and containers before purchase.
 The Bottle-Matic I is designed to apply 1 label to containers from a small patch to fully wrap around.
 The Bottle-Matic II is an advanced model with the provision to apply 1 or 2 labels from the same roll, with a built in incremental dial to accurately space front and back labels on the same container.
 Product Specification
Speed of Application: Up to 1200 pieces per hour dependent on length of label and speed of operator
Container Width: Up to 40cm (containers can be longer with neck overhang)
Container Diameter:  From 12mm to 250mm (for containers smaller than 38mm diameter the pressure arm will need to be used.)
Label Width: From 12mm to 380mm (38mm minimum backing is recommended)
Label Roll Diameter: Standard 22cm, (with optional roll adaptor up to 38cm)
Label Roll Core: 76mm internal diameter (full width of backing paper recommended)
Spacing  Accuracy: For Bottle-Matic II only + or – 3mm adjustable in 2.54mm increments
Operation: Manual loading and foot switch
Electrical Supply: 230V 50HZ (115v 60HZ available on request)
Dimensions: 53cm long x 43cm wide x 20cm high
Weight: 13kg.
Both machines are constructed to highest engineering standards and come complete with a 3 year warranty against manufacturing defects and are fully compliant with all current safety standards.
If you need more advice on our Bottle Matic Label Applicators please email us or call Steve on 01704 876241.